July 22nd, 2014 | by Admin |
I got a call that a client who just purchased a new laptop.  This was at 10:00 a.m. I said I would be there at 1:30   (Same day) and when I got there the Laptop was infected with Optimizer Pro, Slow PC fighter and my pc backup.
Now these programs may work, but the way they go about installing makes me think it's a scam.  You go to Google type in iTunes the first like is a paid ad, why pay to be there if ITunes is free.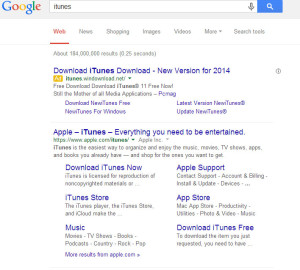 I am not saying anything bad about itunes.windowsdownload.net but it's not the company who makes it, right below that is https://apple.com/ituness/.
Before I got there she went to download something she thought she needed and in turn, downloaded a program which installed 5 other programs to make your pc run better.  So the anti-virus didn't stop it and malwarebytes will not stop it.  This is because it's a program which you authorize the install of.
Be careful when you get your new pc.
Search Results